Get Time in the Putting Lab
Are you ready to take charge of your putting game and bring it to the next level?
Putting represents a huge opportunity for players to lower their scores; 45% of the strokes taken are strokes made with a putter.
Aviara Golf Academy's BigTilt putting platform is a complete putting training solution that aids the golfer in developing green reading skills as well as the "Make-it mindset" by training feel and vision on various slopes from 0% to 5% alongside a Well-line projection system that projects 3 different lines of break according to 3 different speeds and much more.
The Aviara Golf Academy also features the Quintic Ball Roll System. Quintic Ball Roll Systems offer fast and accurate information for both the club and ball, without any attachments affecting either the club or the player! Quintic Ball Roll utilizes a high-speed camera (360 – 1080 frames per second) to track the putter and golf ball throughout the impact zone of either a right handed or left handed player. The system automatically measures over 45 parameters regarding the putter and ball, both graphically and numerically. The data is instantly displayed within the software for immediate analysis, review and intervention.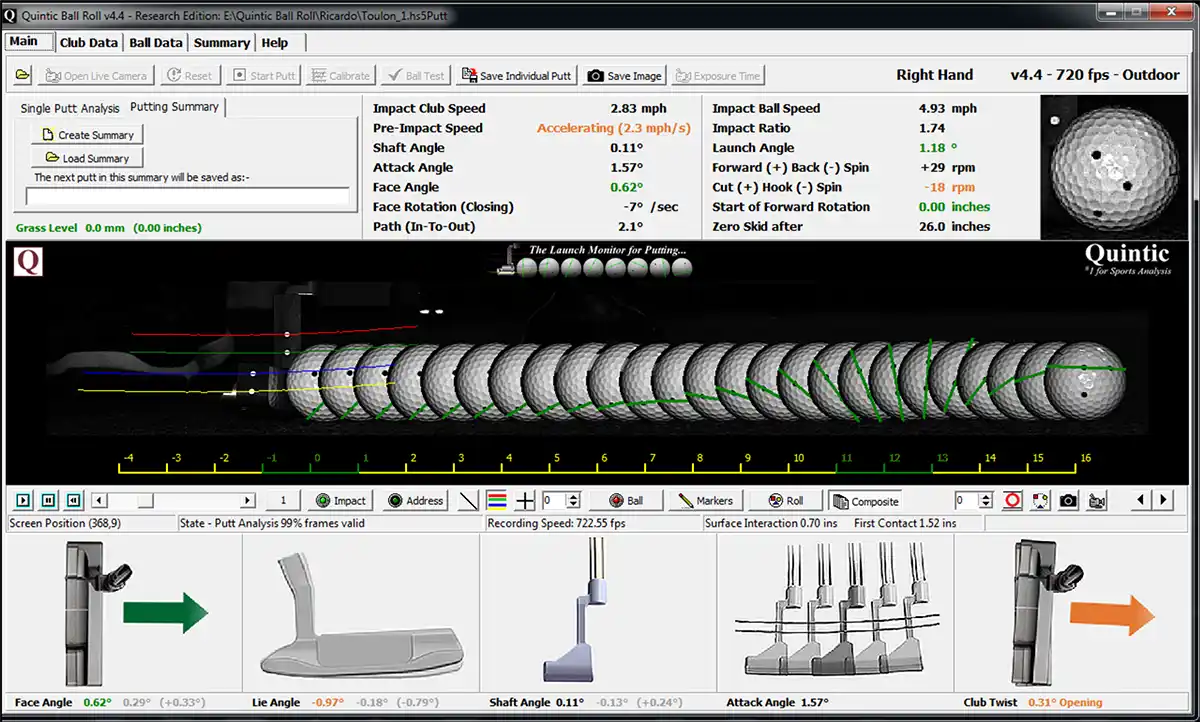 Quintic measures over 45 different parameters
Impact Club & Ball Speed & Impact Ratio
Face Angle & Face Rotation during the Impact Zone
Face Twist (Face deflection as a result of impact!)
Putter Path, Face to Path Angle during Impact
Lie, Attack and Shaft Angle
Ball Speed during the first 16/20 inches of the putt (how does the ball slow down?)
Launch Angle, Surface Interaction & Vertical Bounce
Skid, Backspin & Roll (Angular rotation & RPM)
Hook, Slice & Rifle Spin
The point of Zero Skid / Time to Zero Skid / Ball Speed at Zero Skid
The average of up to 200 putts including the range & standard deviation, for easy comparison of putters and putting technique
Create a PDF / Excel summary report for your clients or R&D analysis
Our Staff also utilizes JC Video to analyze your stroke from both face on, target line, and worm view. We compare your stroke as well as body mechanics to the to the best putters in the world to gain a better understanding of the most efficient way for you to improve your putting.
From the lab to the green, take your putting right out the door to Aviara's green to practice putts of all lengths and slopes.