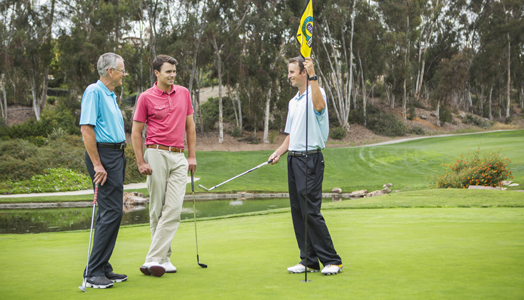 by Al Petersen, Southland Golf
When asked what role golf plays in his family's life, Kip Puterbaugh paused a few seconds before yelling out the question to one of his sons hitting balls in a bay at Aviara Golf Club in Carlsbad.
"Water, food, golf," quipped Jamie Puterbaugh, one of two sons Kip teaches with at the Kip Puterbaugh Aviara Golf Academy.
"Yep. It is a big part of our life," Kip responded in what apparently qualifies as an understatement. "We never really planned on any of our sons teaching with me, but it's pretty special that they do."
In a sign that business and pleasure can mix, Kip, Jamie and Jason Puterbaugh are among the teachers at Aviara, where Kip has spent nearly 30 of his 44 years as a golf instructor. Along the way he has received several regional and national accolades that include being a fixture in Golf Magazine's Top 100 Teachers list since it first appeared in 1996.